Silk Naturals Product Information
Need help finding the perfect products? These articles will answer a lot of questions, and hopefully point you in the right direction! If you have any questions just let us know!
What the symbols on your packaging mean
Multi-Use Minerals...and Safety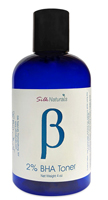 2% BHA Toner- liquid exfoliant

Here you'll find in-depth behind-the-scenes information about our ingredients, and the formulas we make!
Bakuchiol- a gentle Retinol alternative
Ingredient Spotlight: Vitamin C for Your Skin