A Guide to Choosing your Perfect Harmony Foundation

Silk Naturals pure mineral foundation is so unique it's patent pending! Instead of trying to pick just the right shade and then running back to the makeup counter when your skin tone changes with the seasons our Perfect Harmony system gives you the freedom and flexibility to custom blend your own perfect match.
We do this by giving you a kit with a bag of pure white foundation and any one of our 5 colored bases along with an empty jar, and a measuring scoop.
It's really a lot more simple than it sounds, and we include an instruction sheet and recipes with each order to help you get started.
It takes about 10-15 minutes to find your perfect match, and most of the time it's easy and a lot of fun.


Our
web forum
is also a great place to get tips and advice- Jen, our forum moderator. is a foundation mixing guru and she's happy to help you!

If you are new to our foundation we really recommend starting with our

Perfect Harmony Sample Kit

. It has a sample of Original Coverage Ivory, plus all 6 of our colored bases. You should be able to find a great match with just that kit. We also have individual samples available. They're listed either under the untinted bases,or the tinted bases.
We also have 5 formulas to choose from:
Original

has light to moderate but very buildable coverage with a natural matte finish.
Medium Coverage

has about twice the amount of coverage.
Heavy Coverage

is one of the heaviest coverage blends on the market, and may even be a bit too heavy for full face wear, but it will conceal just about anything you'd like it to.


Vegan

- midway between Original and Medium coverage- made without silk


Glow

- adds a hint of luminosity to your blend. Generally it's used as an additive to another blend, and not by itself.

To illustrate I've drawn a black dot with permanent marker on my arm and covered it with 2 coats of foundation: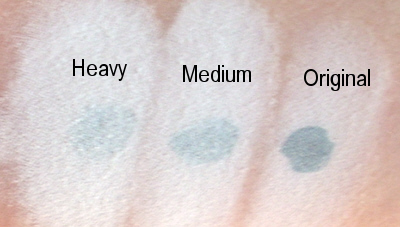 The Base Colors: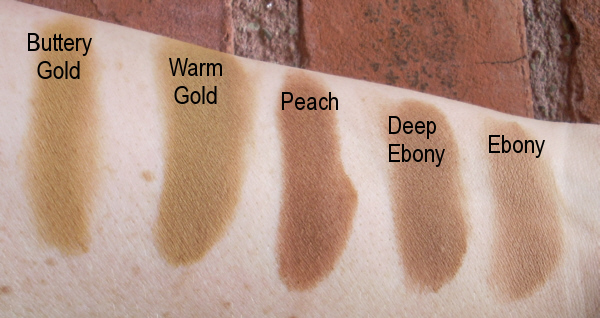 Ebony

is great for light to medium- neutral to cool pink skin tones- ones that burn easily, and don't tan very well.




Deep Ebony

is for neutral to cool pink undertones- but much deeper and more pigmented than our regular ivory- great for medium to deep skin tones.




Peach

is for women with peach undertones- girls who can tan, but tend to burn first. This is a match if you're switching from Meow's Persian. Peach is very concentrated, and is generally more of a warm color booster than an actual skin tone match for most people.




Warm Gold

is for women with some warm undertones and/or olive skin- women who tend to tan easily. If you get a tan- this color is a good place to start- you may need a little Buttery Gold, or a little Peach- but this tends to be the blend that works on a lot of the warmer skin tones.u




Buttery Gold

is for women with strong yellow undertones- it does have a hint of beige in it, but is primarily yellow. It's also nice to have a sample around as a nice booster color if you need a little extra yellow in your blend.

Winged Butter, Manx, Abyssinian, and the MAC NC series




Olive

was designed for women with more Mediterranian skin tones. If Ebony seems a little "too pink" for you- Olive is most likely going to be a good match. Don't be thrown-off by the name- a lot of caucation women use this as their base.






Yellow color booster

. Highly concentrated yellow foundation used for making minor adjustments to your color




Green Color Booster

. Highly concentrated green foundation used to reduce redness or correct foundations that look "too pink"