emmy2410 wrote:
Xarata, you are such a sweetie...thanks for the swatches...im eyeing some lip colours. Just wanted to ask you in your first post how do you get to arrange your pots on the white board...hope I make sense in what im asking..hee hee..
thanks dear.
They're attached with magnets, but I think you're asking how do I arrange them/what order are they in?
Some of the pictures of my stash have them labeled like this one:
Attachment:
File comment: This is an older picture of my stash. I recently posted an updated picture with all of its new boards and stuff.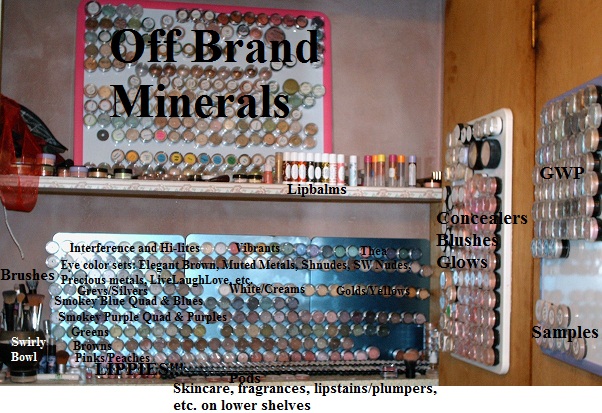 002.JPG [ 167.08 KiB | Viewed 804 times ]
I generally keep them sectioned off by color (greens, browns, pinks, etc.) but there are certain types of shadows i keep together (all my sheer highlighters are together, all the neon brights are together) and some collections (Stonewashed Nudes, Shimmering Nudes, Live Laugh Love Trio, Muted Metals) I keep together because they pair well together and tend to have the same finishes.
The bigger the stash grows, the newer ways i end up arranging them. The lippies are organized by type (all the black labels together, all the buttercreams together, etc.) and then alphabetical within type