Great swaps with zooeyblue, superwahz, and egerandi- Thanks girls!
Attachment: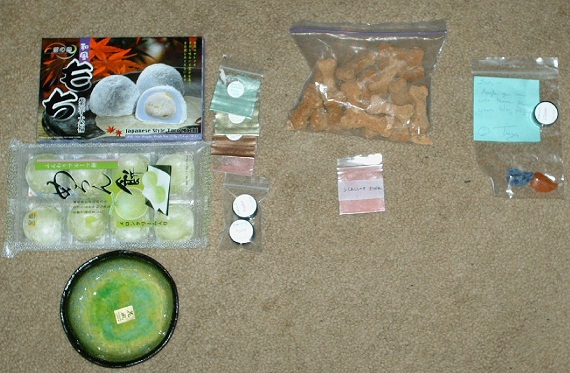 001.JPG [ 129.61 KiB | Viewed 433 times ]
I don't normally take pictures of swaps but I felt like a kid at xmas so this time i had to. We swapped both makeup and fun stuff- me sending discontinued colors and headbands and they sending fun things they do or have that i don't.
Left- the original swap was for some of the GWP colors i missed, but spiraled into something even more fun. I've only ever had ice cream mochi, but superwahz sent another type of mochi. The best way i can think of to decribe mochi is that it's like fruit flavored cookie dough. yum yum. She also picked out a pretty swirly bowl for the asian market for me! I sent her some dc'ed colors and some of my headbands.
Middle- Egerandi makes homemade dog treats and my dog loves her some cookies. Egerandi sent two bags of cookies for my Honey and some scallop pink shadow for my jar of loverly (best cream blush color EVER)
Right- zooeyblue had a GWP i missed that she wasn't loving on and i sent her one of my headbands. She tucked some cute little stones into the package for my xarata project. Now i just have to figure out what i want to use them in!
Thanks girls!!!